This week, the hallway track was where I learnt how to write a photo essay!
The hallway track is one of my favourite places at conferences and seminars. It helps my business with "lead generation", and who doesn't want a bit of "lead generation" when you're running a business?
A hallway track is the collection of gaps in the proceedings at big conferences and at small events, a place where you have a chance to chat with people, to shoot the breeze, and to explore conversations that you might not ordinarily have had in your daily working life. That happened to me this week, when I went to an event run by the London Chamber of Commerce & Industry (LCCI) to celebrate the achievements of The Royal Photographic Society (RPS).
As a result, this blogpost is a bit of a double whammy! This article is an overview of what I learnt at the LCCI event and then there's a link at the end, to a full blown example of what I learnt, how to write a photo essay.
Objective
Do you have one or more objectives when you go to business events?
I do. In brief:
• Meet some new people
• Get some business cards
• Learn something new
• Follow up
It doesn't always work like that, though this week I was able to tick every item on the list. It helps to do a little advance preparation. In my mind I had already likened photography to art, and so I quickly checked my library of quotable quotes to see who has said what about art. Just in case I needed to kick start a conversation with some relevant material. I found a quote from Aristotle and another from Tolstoy.
Aristotle: "the aim of art is to represent not the outward appearance of things, but their inward significance."
Tolstoy: "the main purpose of art is that it tell the truth about the soul, revealing and giving expression to all the secrets that one cannot say in simple words – art is a microscope that the artist focuses on the secrets of his own soul, and that then reveals to men the secrets common to them all."
Photos are a form of art, so I thought that I had a reasonable foundation before I arrived at the LCCI venue. In the event, I didn't use any of the prepared material, as my customary open ended questions turned out to be more than sufficient.
Converse
The formal presentations were predictable, and lasted around 30 minutes. The hallway track before and after was very illuminating. I was talking to Mark Phillips who is the chair of the RPS Documentary Group, and my normal conversations start with something like "so tell me, why is X so important" or "what's the thing you're most proud of" or in this case (with my art quotes mentally prepared) I said "how do I judge the significance of a photo".
Mark was very enthusiastic about lots of things, and he gave me the big "golden nugget" of the day. Normally at every event there's a golden nugget, if you go and look for it.
That's one of my other stock questions for events . . . in the group networking after the formal presentations have ended I will often ask "what was the one big thing that stood out from that talk". Try it, you might be surprised that half the time your counterpart will reply "I dunno".
And half of half the time, I agree with them! The speakers really didn't say much at all. The other half of half the time I ask myself if the delegate was really listening. This week I was listening carefully (as usual), and Simon Hill (President of the RPS) did have something valuable to say. He told us about London's heritage with a focus on trade and shopkeepers. That tied in with the photo exhibition which is on display at the LCCI Queen Street venue for one month.
Anyway, the golden nugget was Mark telling me about Life magazine and Time magazine, and how they had an "Eight Photo" guidance document on how to prepare a photo essay for publication. It's guidance, it's not a strict formula, and it was clearly the right way to handle articles in paper magazines in the pre internet era. There's a lot of value in it still, and in order to demonstrate that I have dived in head first and prepared an "Eight Photo" essay on my experience of Stirling University.
That comes a bit later! I prepared it because (a) I liked the idea of an essay formula (though it's not a strict formula) and (b) I wanted to have the experience of doing one for myself and (c) it ties in neatly with my fourth objective which says I have to follow up!
In summary the eight photographs recommended by the magazines are:
• Overview – typically wide-angle giving comprehensive impression
• Medium Shot – focussed on activity or a group
• Close-up – spotlighting one element, or detail
• Interaction – humans element, talking or activity
• Portrait – strong image, or key protagonist or character
• Signature Image – synthesis that tells whole story in one image
• Series –show how something happens, inject pace or convey action
• The Clincher – often a close-up to close the series
My outline preparation looked like this, before I even started thinking about adding the dialogue: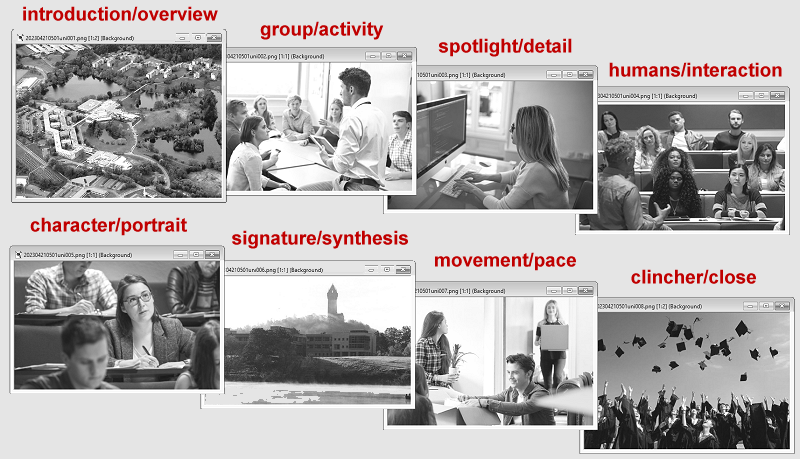 Follow Up
How do you follow up a business meeting? Especially one where nobody is pressing you to do a follow up?
Send some thank you letters or emails. And write a blogpost. In my case I also add some notes to my company knowledge base. This week the knowledge base has a new section entitled "photo essay" and as a result of that new information, the section entitled "blogpost" has also been tweaked a little.
Then email some more people, and tell them what you learnt and what you've blogged!
"University" was an apt choice for my photo essay, because my son is now in the final stages of his journey through university, and it brought back memories of my own. And, having completed his final essay, my son shared with me a quotable quote from his conclusion. It recognises that some people feel they can't start a conversation, or they can't make the most of the hallway track, or they can't begin writing a blogpost or a photo essay.
How to Actually Start the Task You've Been Avoiding
Bregman: "the biggest challenge to moving forward on anything is the transition to working on it. It almost always represents a shift from doing something comfortable to doing something uncomfortable".
Bregman's article in the Harvard Business Review helps with that, so does Checkland, and so does Descartes.
Bregman's details have been added to my library of quotable quotes which is on my own knowledge base. That's one of the tools that help my clients, firstly you need a business plan, then secondly a knowledge base, and thirdly a team which helps the business grow. Checkland has retired. Descartes is dead. Is this knowledge base something that I could help you with?
By the way, here's my article A Stirling University Photo Essay which helps illustrate how I interpret the advice I was given this week.